About us
Mabre Residence Hotel is in the heart of Vilnius Old Town, right next to St. Anne's Church. The central part of the city can be reached within a few minutes on foot. The hotel's unique 16th-century restored building is distinguished by its architecture and is reminiscent of the monastery that once stood here. The hotel's enclosed courtyard is always an eye-catcher for visitors and gives guests an exceptional feeling of security.
The Mabre Residence Hotel has 40 rooms adapted to the needs of the modern traveler, all of which meet the 4-star rating standard. Guests have access to free Wi-Fi. The hotel features a sauna and a swimming pool. Guests can have breakfast, lunch or dinner at the hotel's new bistronomique restaurant M13. Whether it's a wedding ceremony, a birthday party, a christening or a get-together, the restaurant and its outdoor terrace is the perfect place for any occasion.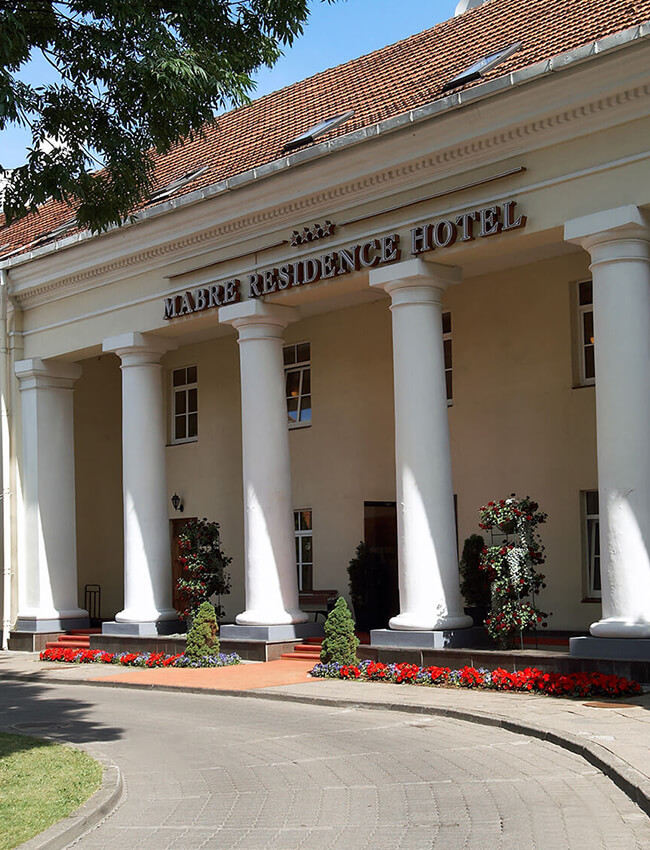 Our history
Building with rich history
The building was first mentioned in 1506, in a letter from Grand Duke Alexander of Lithuania, referring to the Orthodox Metropolitan's Synod, which was held in a house next to the Orthodox Church of the Blessed Mother of God on the road to Polotsk and close to the Grand Duke of Lithuania's Palace. It is believed that this was the first seat of an Orthodox Metropolitan in Lithuania. Around 1609, the Orthodox church and all its buildings became the property of the Lithuanian Unitarian Metropolitan. The Unitarians hosted the church until 1805, when the Metropolitan's Great Palace was built on their initiative. The main building of the Mabre Residence Hotel is now on the site. Until World War II, the building was home to the clergy, psalmists, and servants of the Church of the Most Holy Mother of God. After the war, the building's use changed several times. During the Soviet years, one wing was used for living quarters, while the other was abandoned and unused. After the restoration of Lithuania's independence, the buildings were returned to the Orthodox Cathedral community. At that time, the condition of the buildings was critical. The foundations of two of the buildings remained. The restoration of the complex was completed in November 1995. In the same year, the Mabre Residence Hotel complex at 13 Maironio Street was recognized as the most beautifully landscaped building in Vilnius Old Town.